The Benefits of Having Tugger Carts in The Manufacturing Workspace
4 Reasons Your Manufacturing Area Needs Tugger Carts
Improving productivity and flow is important in any workplace. Whether your company is in manufacturing, construction, medical products, or any other industry, there's always room to progress.
Manufacturing areas specifically can benefit from upgrading their material movement process. Push-carts and forklifts have been used for decades, but they can be clunky, slow, and inefficient.
The solution? Tugger carts (also called push-pull assists). Here are four reasons your manufacturing company needs them to improve your intralogistics: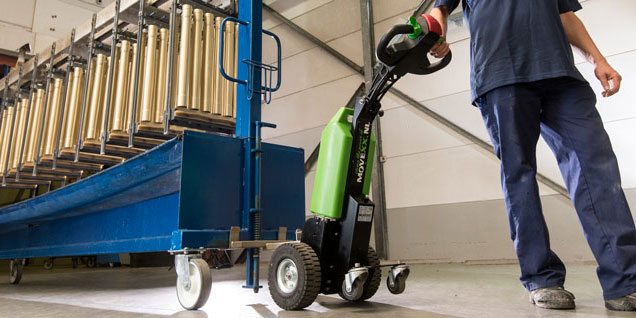 1) Comfort & Convenience
Tuggers can pull thousands of pounds of material. That's right, thousands. Depending on the model, tugger carts can carry a load weight of 2,200 – 5,500 lbs.
They also offer ergonomic operation and low noise levels (70 dB). These features keep your employees safe and comfortable!
2) Practicality
Employees can chain together several carts for a "train" behind the tugger, which can replace up to three forklift runs. Carts are also impressively agile and able to quickly shift in and out of tight spaces.
3) Simplicity
Tugger carts require minimal training and no specialized licenses. This means that inexperienced users can learn to operate them easily and safely.
In addition, carts operate on a battery pack instead of a gas engine. This means no fumes to bother employees and minimal maintenance is required.
4) Adaptability
Tugger carts can be modified with attachments like tow bars, hooks, lifters. This makes the carts extremely versatile and enables them to push or pull anything with wheels.
About Us
At FlexMation, we aim to be trusted partners. Allies who advance your manufacturing performance. Simply put: We help you do your job better, safer, faster and smarter.
We manufacture beautiful custom workstations, FIFO racks, carts and other equipment to improve productivity and safety in manufacturing, industrial and high-tech environments. Whatever your goal, we'll help you get there. Ready? Let's build.