T Slot Aluminum Extrusion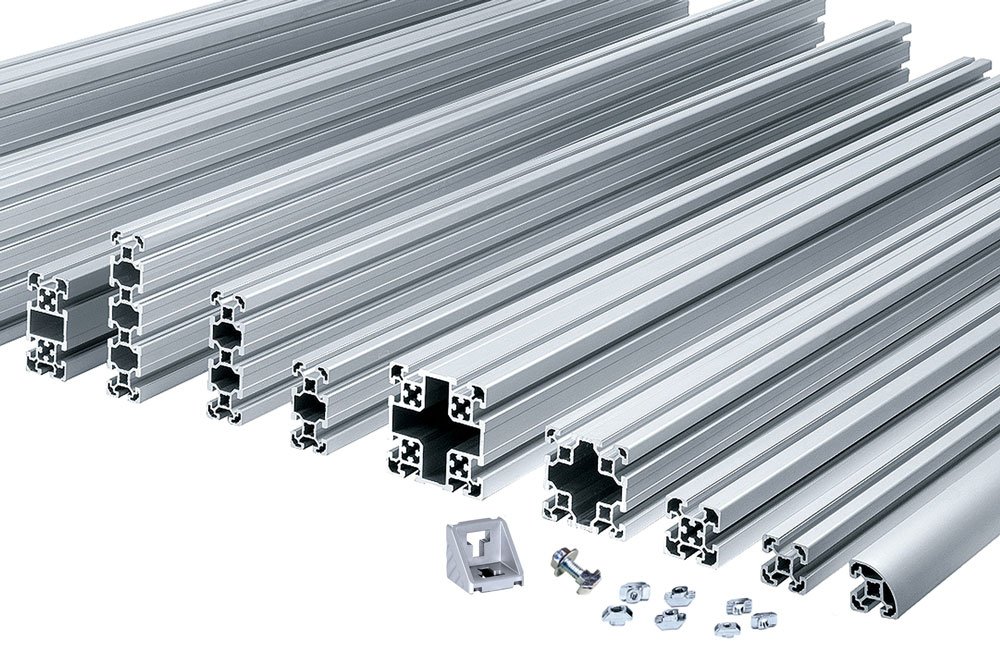 The T slot aluminum extrusion structural framing line from Bosch Rexroth is our material of choice. We've made most of our own shop from this framing and have trusted it for thousands of projects over the years. Rather than offering hundreds of different product lines and service offerings, we focus our attention on being the T slot aluminum framing specialist in the upper midwest.
Structural aluminum framing is a building kit. It's easy to put together, easy to reconfigure, and easy to take apart. The first thing to do is select the profile for your project, then determine the appropriate connection method. Our "drop-in" t-nuts and t-bolts are popular because they are easy to use: drop them in the slot, then give them a twist. The t-bolts turn and lock as you rotate the screw (much easier than having to preload nuts into the ends of the profiles or smear the connections full of adhesive!).
Get Custom T-Slot Aluminum Extrusion Framing
We carry several profiles (sizes from 20×20 [mm] to 90×90) plus fasteners and hardware in stock at our Burnsville, MN location. If you prefer to shop online, check out our eStore for aluminum structural framing, connection hardware and accessories you can use to make nearly anything. If you can imagine it, we've got the stuff to help you build it! Looking for inspiration? Check out our specialty products to see some of our past work.
Custom Designed T Slot Aluminum Extrusion Framing to Improve Lean Manufacturing
At FlexMation, we aim to be trusted partners. Allies who advance your manufacturing performance. Simply put: We help you do your job better, safer, faster and smarter. We create beautiful custom workstations, FIFO racks, carts and other equipment to improve productivity and safety in manufacturing, industrial and high-tech environments. Whatever your goal, we'll help you get there. Ready? Let's build.