Custom Industrial Workbenches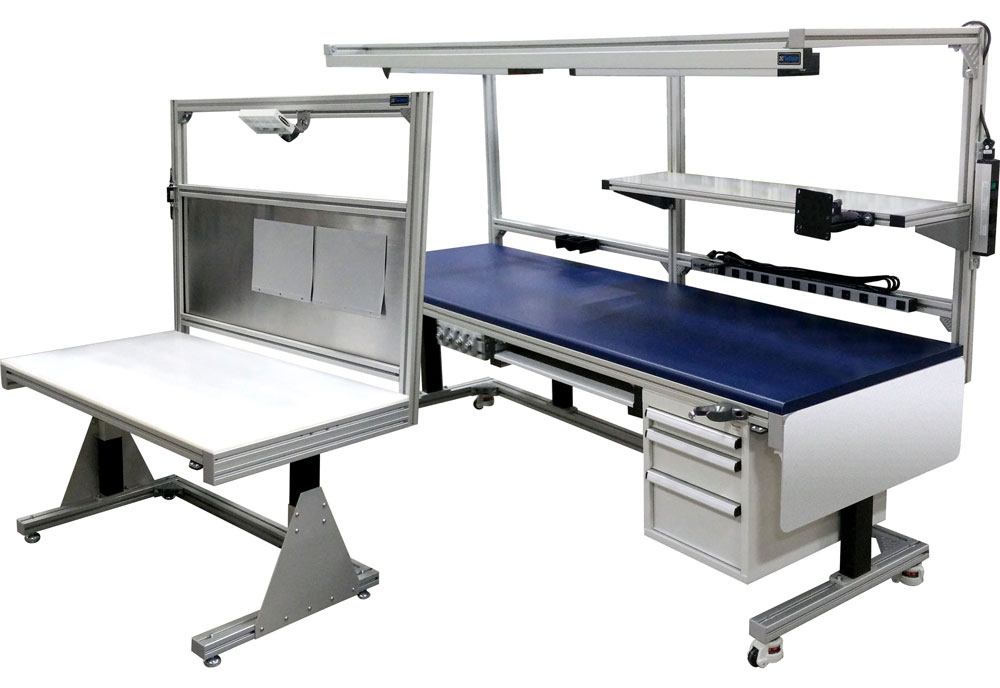 Industrial workstations, workbenches and lean workcells are the most important equipment in your manual production area, and (lucky you) they're our passion! The design process starts with an in-depth Q&A session where we examine your goals for the project. Because it's not just about a workbench. It's about productivity. Growth. Employee wellbeing.
By getting to the core of your motivation, we're able to offer better suggestions along the way. The result? A solution that is uniquely yours. Suited to your product, your crew and their tasks. The combinations are nearly infinite.
Our Industrial Workbenches & Workstations Include:
Stand-alone workstations, workbenches and worktables
Workcells: Linear, U-shaped, back-to-back
Limitless size options
Height-adjustable or fixed-height
Sleek, high tech look (because aesthetics are important)
Easily reconfigurable, able to change with product lines and future needs
Ergonomic designs boost employee wellbeing and engagement
ESD-safe options
Endless customizations with accessories

Material presentation (onboard or docking)
Shelves and bin holders
Conveyor integration (especially useful in workcells)
Technology integration
Tool organization and visual management
Ergonomic, comfort/accessibility accessories
Custom-designed fixtures
Custom Designed Equipment to Improve Lean Manufacturing
At FlexMation, we've designed more than 6,000 custom industrial workstations over the years and thousands of them are in use (and well-loved) by our clients: small industrial shops, world-class manufacturers, universities, research labs and everything in between. Whether you've got a complete drawing or are just starting out, we're your guys for workstation design. Let's build.