Conveyor Systems, Fixtures, & Accessories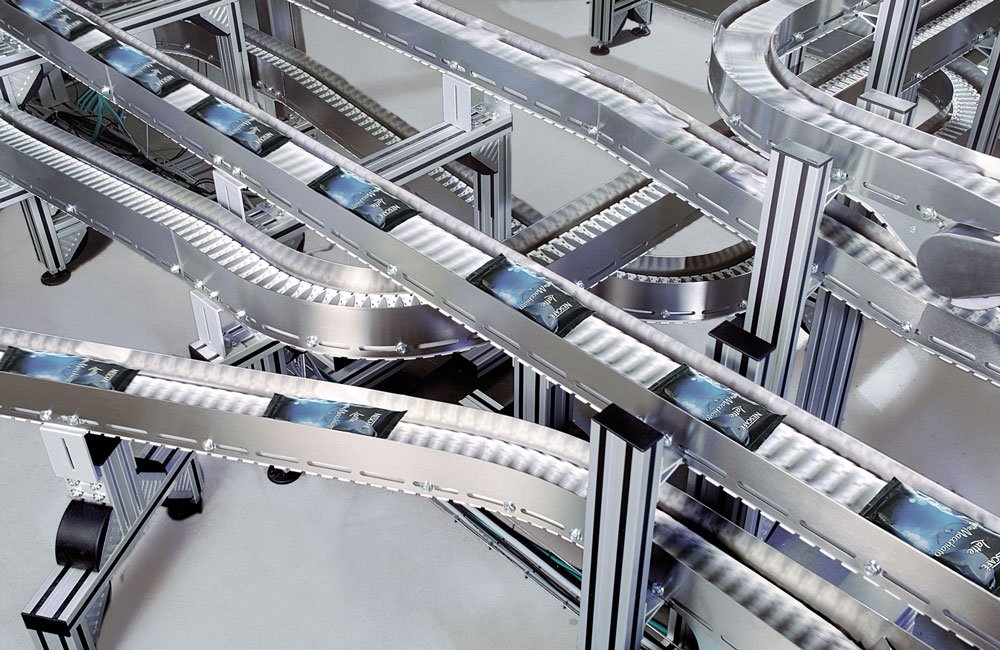 From parts bins to pallets and everything in between, materials need efficient ways to get from place to place within your production environment. And we can't think of a better way than modular conveyor systems. Reduce strain on your employees and make your process more efficient! You can choose from a variety of conveyor options to suit any size piece and any material flow needs:
Workstation-mounted conveyor fixtures to efficiently move product from station to station within a workcell
Flow-rack mounted conveyor fixtures to speed picking and handling processes
Motorized conveyors for various needs:

Transfer System (TS) models for stop-and-go or large assembly line work
VarioFlow chain conveyors for fast-moving lines; great for cans, packages or other small items (even capable of 90-degree vertical transport!)

Rollers, skate wheels, Span-Track, ball rollers… you name it, we can deliver the best options in manual (gravity) conveyor systems
Customizable options for any width, even irregularly-shaped objects
Powered Conveyors
VarioFlow – Plastic chain transfer conveyor
Transfer System – Assembly conveyor with pallets
Active Mover – Linear motor conveyor with pallets
Manual Conveyors
EcoFlow – Cylindrical roller track components
MPS – Wheel roller track components
UNEX – Rollers or skate wheel gravity conveyor sections
Custom Designed Equipment to Improve Lean Manufacturing
At FlexMation, we aim to be trusted partners. Allies who advance your manufacturing performance. Simply put: We help you do your job better, safer, faster and smarter.
PRODUCT NAME

CONVEYORS

IMAGE

TYPE

SPEED

DIRECTION

CAPACITY

LINK

COST

VIDEO

EcoFlow

Manual Rollers

Material Transfer

Low speed

Bi-direction

225-525mm roller lengths

EcoFlow Site Link
$

Product Video

VarioFlow

Plastic Chain Conveyors

Material Transfer

High speed

Uni-direction

65-320mm chain widths

VarioFlow Site Link
$$ - $$$

Product Video

TS1
TS2plus
TS4plus
TS5

Transfer Conveyors

Material Assembly with Pallets

Low speed

Uni-direction

0-3kg
0-240kg
0-250kg
0-400kg


TS Site Link
$$$ - $$$$$

Product Video

ActiveMover

Transfer Conveyors

Material Assembly with Pallets

High speed

Bi-direction

up to 10kg

ActiveMover Site Link
$$$ - $$$$

Product Video
We create beautiful custom workstations, FIFO racks, carts and other equipment to improve productivity and safety in manufacturing, industrial and high-tech environments. Whatever your goal, we'll help you get there. Ready? Let's build.