UNEX Flow Cell Parts Storage & Picking Systems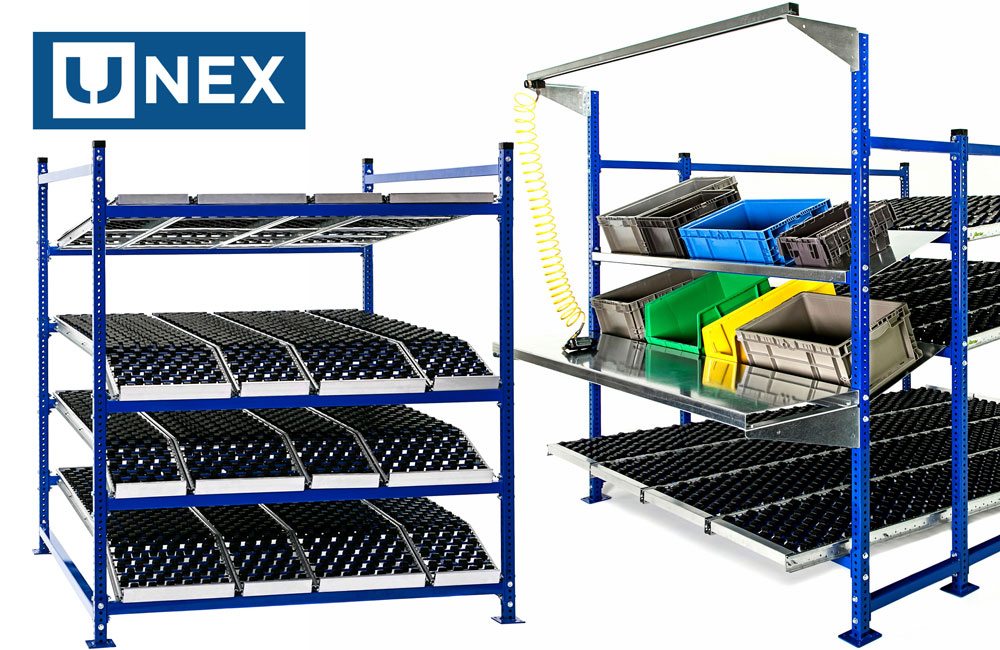 The Flow Cell line from UNEX combines some of the best features of workstations and conveyors. The results are perfect lean manufacturing, material handling and presentation solutions. Much like applications created from our structural aluminum framing, Flow Cell units are modular, reconfigurable and assemble easily. Plus, the two systems can work together to provide even greater possibilities. Flow Cell features:
Durable & Attractive
Heavy gauge steel construction
7-year warranty
Rated up to 1,000 lbs. per level – Up to 13 times stronger than Creform
Powder coat finish, available in blue, white, green, red or zinc
Flexible & Efficient
Easy assembly & reconfiguration
Heavy, standard and light-duty options available
Variety of widths available to fit nearly any bin
1.75" tall beam with 1" adjustability allows for maximum product density
SpanTrack roller kits are compatible with our 45mm aluminum framing, making it easier than ever to expand or reconfigure your material handling systems while maintaining your look.
UNEX Roller Rack Quick Ship
Need a FIFO rack quick? Roller Rack Quick Ship is the answer! These pre-engineered 8'x8′ flow racks are perfect for lineside storage, warehousing or kitting, and ship out in just a week. Add-on bays and extra levels are also available!
Custom Designed Equipment to Improve Lean Manufacturing
At FlexMation, we aim to be trusted partners. Allies who advance your manufacturing performance. Simply put: We help you do your job better, safer, faster and smarter.
We create beautiful custom workstations, FIFO racks, carts and other equipment to improve productivity and safety in manufacturing, industrial and high-tech environments. Whatever your goal, we'll help you get there. Ready? Let's build.