7 Reasons Why Aluminum Process Enclosures Are So Popular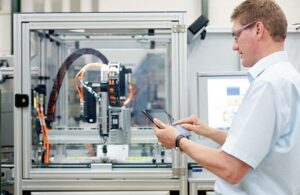 Process enclosures are designed to contain and prevent contamination at testing stations. They can also confine machine, robotic, or laser processes and come in various shapes, sizes, and configurations to meet specific needs similar to machine safety guards and controlled environments, enclosure boxes are essential for safety and efficiency and serve a variety of needs, from web handling and noise mitigation to pressure testing and enclosures for heavy grinding equipment.
When it comes to processing enclosures in lean manufacturing, those of the aluminum variety provide professionals with a host of useful benefits to protect people, processes, and products. Here are just a few of the most helpful benefits of aluminum enclosure boxes.
1. Excellent for Electronics
Due to its exceptional electrical and shielding properties, aluminum is widely used in the production of process enclosures meant to house or protect electronic components. Its versatility and durability make it a top choice in the lean manufacturing industry. Aluminum is a highly conductive metal with the highest electrical conductivity-to-weight ratio among all metals. It is an ideal material for enclosures as it provides excellent RFI / EMI shielding and effectively controls ESD (electrostatic discharge). Additionally, aluminum is a great reflector of externally generated interference, particularly electromagnetic wavelengths of radio and radar.
2. Weight & Strength
Aluminum is a popular choice for constructing enclosures due to its high strength-to-weight ratio. This means that aluminum enclosures are not only lightweight but also strong. Compared to other materials used in enclosure construction, aluminum offers better fracture toughness, making it resistant to impacts, mechanical breakage, and propagation of fractures. Additionally, aluminum does not easily stress, tear, or crack.
3. Resistance to Corrosion
Corrosion is a real issue in the world of manufacturing. Maybe that's why so many experts choose aluminum process enclosures over alternative options because it's naturally resistant to corrosive substances like salt water. Aluminum is actually resistant to several substances that cause weathering and can even withstand long-term exposure to UV rays.   
4. Resistance to Extreme Temperature Fluctuations
Aluminum is a versatile and reliable material that maintains consistent characteristics over a wide range of temperatures. It is not only strong and durable but also has a low coefficient of thermal expansion, which enables it to withstand higher temperatures without distortion. In cold weather, aluminum enclosures do not become brittle or fragile; on the contrary, their tensile strength increases without losing ductility. These features make aluminum an excellent choice in lean manufacturing.
5. High Safety
Aluminum is a highly versatile material that is non-toxic, odorless, tasteless, and non-absorbing. It is also non-sparking, non-magnetic, and non-flammable, making it ideal for use in a variety of specialized environments. For example, aluminum enclosures can be used in a variety of harsh and even sensitive environments, from manufacturing plants to sensitive areas like food prep locations with high sanitary standards. Additionally, aluminum is fully recyclable, which makes it an environmentally-friendly choice for many industries.
6. Heat Dissipation Properties
Aluminum is a popular choice for enclosures due to its superior thermal conductivity. It effectively and efficiently dissipates heat away from electronics and other equipment. Additionally, aluminum boasts a high reflectance to incoming radiated heat, such as sunlight, with a reflectivity of over 80%.
7. Custom-Designed Options
Custom enclosures are typically designed to be specific to a product or process. In order to create the perfect enclosure, our team works closely with clients to develop the concept or can use an already completed drawing. We have the expertise and knowledge to make your custom process enclosure a reality. Unsure where to start or whether an aluminum enclosure box is a better choice than plastic? Contact our office in Minnesota today for a free consultation. It would be our pleasure to answer your questions and learn more about your project and the needs you have in mind.  
At FlexMation, we aim to be trusted partners and allies who advance your manufacturing performance. We create beautiful custom industrial workstations, FIFO racks, carts, and other equipment to improve productivity and safety in manufacturing, industrial, and high-tech environments. Simply put: We help you do your job better, safer, faster, and smarter. We also help protect your people, products, and processes with custom aluminum enclosures. And when your most valuable players and products are protected, you benefit from enhanced efficiency and overall productivity.
Curious whether aluminum enclosure boxes are a good fit for you? Give us a call. Whatever your goal, we'll help you get there.