Exploring the Advantages of Industrial Gravity Flow Racks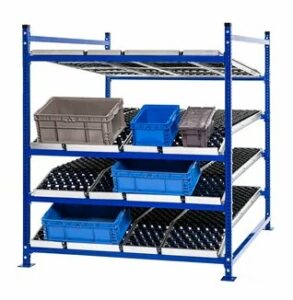 Flow racks have proven to be a highly effective tool for optimizing and modernizing essential tasks, such as inventory management, order picking, and part picking. Companies that have implemented flow racks have experienced increased productivity, effortless organization of packages and parts, and a smoother production process, even in the face of supply chain challenges.
As an authorized distributor of UNEX products, we can confidently say that industrial racks can help companies be more efficient and reduce wasted space. If you're looking for a way to maximize your workspace to boost productivity and profitability, investing in a flow rack system may be the solution you're after. But what exactly are flow racks, and how can they help you capture more revenue? We'll answer those questions and more below.
Flow Racks Explained
Flow racks are incredibly user-friendly both in terms of understanding and operation. These systems work by utilizing gravity to create a dynamic and efficient process for picking and production, as well as for storage in warehouses and manufacturing facilities. With their modern design, flow rack systems help to eliminate common problems that come with traditional static shelving systems.
They are perfect for minimizing storage sprawl and supporting intuitive, ergonomic, and efficient storage, organization, and picking processes for a wide range of industries, including:
Manufacturing

Retail

 

Fulfillment

Logistics

More
How They Work
Flow racks utilize the power of gravity to create efficient conveyor systems for manufacturing and warehousing. Unlike static systems, flow racks provide angled and easily accessible racks that allow for smooth movement of parts and products towards pick points.
This results in reduced travel time and increased pick speeds, enhancing operator efficiency without adding to their workload. Flow racks are an ideal solution for facilities looking to streamline carton flow, improve efficiency, and ensure FIFO stock rotation, as they save space, time, and resources.
Who Benefits Most from Gravity Flow Racks?
Flow racks can enhance operations in many different warehouse settings. Industries such as manufacturing, retail, fulfillment, and logistics are particularly suited for the time and energy-saving advantages provided by flow racks.
Industrial flow racks from FlexMation are particularly useful for businesses that deal with bulky or hazardous products that may be challenging for employees to handle. Plus, their gravity-driven design enables inventory to be stocked, sorted, and retrieved in a way that is ergonomically sound, reducing operator fatigue and the risk of injury.
Three Advantages of Flow Racking in Lean Manufacturing
At FlexMation, reliable feedback is a crucial component in giving our customers the products they truly need to optimize their lean manufacturing initiatives. When we asked customers to tell us some of the biggest benefits of using industrial flow racks, they were happy to oblige.
Customized Modular Solutions
One of the biggest reasons why lean manufacturers choose gravity flow racks is because of their modular design.  Flow racks can be tailored to suit your most intricate and demanding production needs due to their effortless installation process and adaptable design. With a single flow rack, you can establish an independent unit that optimizes carton flow in vital loading zones, or you can merge racks to construct customized, adjustable flow bays that facilitate seamless line changes.
More Facility Space
By using flow racks, facilities can significantly increase their storage space utilization without having to expand their storage areas. This is due to the space-saving design of flow racks which can support a parts and SKU density that is 7x higher than traditional pallet storage systems. In fact, flow racks have been shown to cut travel time in facilities by up to 80%.
Optimized Operator Ergonomics
By utilizing basic physics, flow racks can greatly improve operator ergonomics in warehouse settings. The conveyor systems that are powered by gravity in flow racks help to minimize the need for reaching, bending, lifting, and carrying. This enables workers to increase their pick and production speed while also minimizing fatigue and inefficient or wasted movements.
Additionally, flow racks allow for convenient access and visibility to every part or SKU in the unit, which is not possible with static shelves and pallets that have fixed, inefficient points of pick. The products in flow racks flow forward, which saves workers valuable time and energy that would have been wasted searching and retrieving materials stored out of reach in the back of static systems.
Learn More About UNEX Flow Racks from FlexMation Today
Maximizing space is important for any manufacturing environment. One of the best ways to achieve that goal is by using flow racks to organize important components in your warehouse. Curious if UNEX roller racks are a good fit for your industrial needs? Contact FlexMation today. Whatever your goal, our team of experts will help you get there.