Increase Productivity and Reduce Waste with Tugger Machines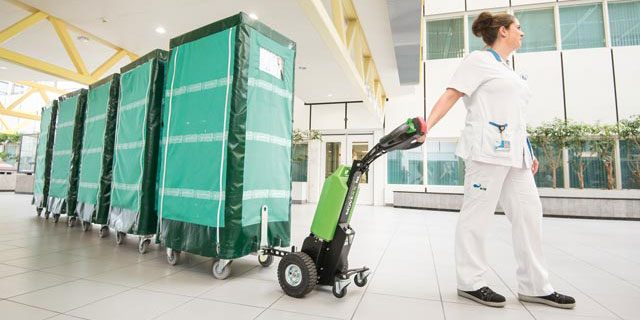 The ethos behind lean manufacturing is to create eco-friendly working environments that produce high-quality equipment and products while using less energy. This strategy, which helps reduce waste pollution, has been adopted by many industries over the years. With more manufacturers embracing the lean manufacturing philosophy, it has led lean thinkers to devise alternative ways to boost production efficiency. Among the many types of equipment that reduce waste and increase efficiency, tugger machines may be the most practical.
Let's examine what tugger machines are and why more companies are using them to improve lean manufacturing in assembly areas.
What Are Tugger Machines?
If workers in your warehouse or facility are pushing heavy carts by hand or using a forklift to run to and fro, it may be time to rethink your strategy. Push-pull assistants, also called tugger carts from Movexx, can help expedite lean material flow. Tugger machines are used in a variety of capacities across many industries, from high-tech to industrial.
That's because they're ergonomic, efficient, and easy to use, boasting low noise levels, amazing agility, and no need for specialized licenses. With the proper attachment, machine tuggers can push or pull almost anything that has wheels. Plus, with battery-operated models available from FlexMation, you don't have to worry about harmful fumes and costly fuel.
Benefits of Push-Pull Tugging Machines
Higher Capacity for Easier Deliveries
Before tugger machines became prevalent, forklifts were the primary way to transfer heavy loads from one part of your production line to another. However, the limited capacity of forklifts means an operator has to travel back and forth to finish a delivery. Tugger carts all but wipe out this common issue. That's because, with tugger machines, more than one cart can be linked together to form a train of sorts, making it very possible to complete deliveries in one shot. In fact, chaining together several carts behind the tugger can replace two or three runs on your forklift. Because tugger machines are also agile, they can easily maneuver in and out of tight or narrow spaces, reducing delivery time and boosting efficiency.
Less Traffic on Warehouse Floor
One of the popular reasons tugger machines are used in lean manufacturing is because they help reduce congestion in your facility. Before tugger carts, forklifts were often the first choice for moving items. But forklifts are cumbersome and necessitate more maneuvering space when dropping off items. Because tugger machines can be linked together in a train, it allows workers to remove one cart at a time from a larger series of carts.
Multiple Configurations
One of the most exciting and valuable aspects of tugger machines from Movexx is that they are incredibly versatile and can be used in many different applications. Unlike many forklifts, you can modify tugger machines to suit your lean manufacturing needs. Need a tow bar to pull extra weight? No problem. Want to reduce your reliance on forklifts? A lifter attachment might be the solution for you. Because tugger machines have the potential for various configurations, they can help simplify material transport while reducing downtime.
Less Carbon Footprint
Because tugger machines can link multiple containers together in one trip, less energy is consumed when compared to using a forklift. Less energy consumption means fewer waste emissions, which aligns with many companies' lean manufacturing policies. Using a tugger cart system can also reduce the number of workers you need for deliveries. That's because traditional methods require several people to complete a delivery: a person to drive, a person to unload old cargo, and a person to load new cargo. With a tugger machine train, it's possible for one person to handle more aspects of cargo delivery.
Easy Operation
Unlike forklifts, which require training and licensing, tugger carts are relatively easy to operate and do not require advanced skills. With some basic training and common sense, it's easy for just about anyone to use a tugger machine effectively.
High-Quality, Dependable Tugger Machines from Flexmation
At Flexmation, we have a wide variety of premium tugger carts from Movexx, from T1000 Basics to T2500 models with load capacities over 5,000 lbs. From their smooth, easy-to-use style of operation to their versatility and improved delivery capacity, tugger machines are tailor-made for convenience and capability. If you're searching for custom-designed equipment like push-pull assists for your lean manufacturing needs, contact Flexmation today. Whatever your goal, we'll help you get there.