Jake Conant — FlexMation's Engineering Manager
Meet Our Engineering Manager – Jake
At FlexMation, our goal isn't simply to provide aluminum extrusions to customers. We want to bring their visions to life. Whether our customers want workstations or other structures, our aim is to deliver the perfect items for their needs. Jake Conant is a key player when it comes to making this happen.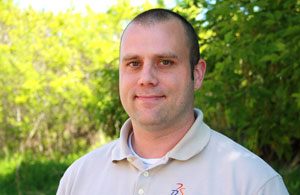 Jake has been a CAD designer for over 15 years. His background is diverse, working with industries that include HVAC, Automotive, Industrial, and Medical.
He's been with FlexMation for nearly 8 years, which gives our company consistency and reliability that our customers appreciate.
How Jake Helps Clients
A customer has an idea. Often, it's a simple sketch of a structure on a napkin. Other times it's a cardboard representation of a workstation. And sometimes the ideas are only in their imaginations. No matter how they propose it, we have to make it a reality. Jake is the starting point in the process.
He meets with customers, gathers their concepts, and gets to work creating CAD mockups. Once the 3D CAD models are complete, Jake collaborates with the customer in person or using technology like Teams to answer any questions and guide them through the process in general.
This method ensures that the customer gets to see the design, review that it matches exactly what they wanted, and approve it before we build the final product.
Once the designs are approved, Jake creates a bill of materials (a list of items to purchase) and sends it, along with the approved plans, to our shop where the final product will be built and sent to the customer.
The CAD Technology We Use
Many times, designers will create a mockup with piece-part modeling. For example, if they're designing a workstation they'll create four leg posts and discuss how they'll fit into the bigger picture. But Jake uses technology to get the job done fast, efficiently, and accurately.
He utilizes a technique called weldment, which is building an entire sketch as opposed to making separate designs for individual parts. This enables him to show the client the 3D design and click on sections to highlight important specific components.
The process is accomplished through cutting-edge technology. Jake isn't limited by technology in any way and utilizes important tools such as:
SolidWorks:

A leading 3D CAD system.

DriveWorks:

A design automation software that partners with SolidWorks and acts as a virtual assistant and gets rid of mundane tasks.

PDM Vault:

A project data management software that helps control changes and revisions. It stores data all the way through an entire project from conception to completion.
Trust Our Experts to Deliver Results
If you've got a workstation or structure in mind, you need to work with a company that can provide the best resources, creativity, and customer service. We offer the expertise you need to bring your vision to life.
At FlexMation, we aim to be trusted partners who advance your manufacturing performance. Simply put: We help you make things better, safer, faster, and smarter. If you're interested in learning more about how we can improve your lean manufacturing, please contact us today!