The Advantages of Aluminum Framing Over Steel Framing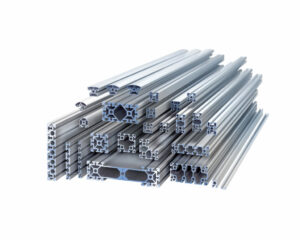 Whether you're building a single custom work cell or a safety guard at your facility, having a well-built structural frame is crucial. And when it comes to frames, aluminum framing is one of the most popular and cost-effective materials to consider. But what are the advantages of using aluminum extrusion systems over alternatives like steel? Here are just a few benefits of choosing aluminum framing from FlexMation and why so many professionals prefer it over steel and other aluminum brands.
Modular
Working environments are all the more efficient when they are individually tailored to meet the respective production requirements. The Aluminum T-slot profile will give you this with the modularity required for a quick change (kaizen events). No welding or painting is required, you simply bolt your project together and when your project is complete the clear anodized finish will make your project look world-class. With over one hundred different profile shapes and sizes as well as versatile connection offerings and accessories enable you to turn any idea into reality
Strength
With all the different sizes and different kinds of connections aluminum profiles can be tailored to your strength requirements. With aluminum profiles you would worry about bending – each profile should have a bend analysis for you to help you make the correct decision and design. We believe the connector being used is more important than choosing the correct profile.A wrong profile could show, but more than likely won't break. This can be strengthened by adding to it (gussets, additional profiles, etc.). If you choose the wrong connection you could have a failure that could cause injury. So choosing the correct connector to use with your T-slot profile is crucial to the strength of your project.
Finish
Aluminum profiles come with a clear anodized finish that eliminates discoloring and painting. With a smooth-sided profile you can create cleanroom equipment using cleanroom accessories. Sense T-slot profile is engineered to work with t-slot connectors and accessories you can create a piece that is eye-pleasing and world-class look – you did
Environmentally Friendly
Since it's an elemental material, the properties that makeup aluminum do not change with mechanical processing. That means it can be recycled over and over without degrading its properties. Plus, it's non-toxic, making aluminum framing one of the best options if eco-friendly is non-negotiable.
But What About 80/20 Aluminum? Is It Superior Over FlexMation Modular Aluminum?
Chances are, you've heard people use the word "Band-Aid" to refer to a small bandage. While both terms are used interchangeably, Band-Aid is a brand, not the actual bandage. 80/20 aluminum is used as a synonym for T-slot framing< in the same way that Band-Aid is used to replace the word bandage.
The FlexMation Difference
It's true that 80/20 has done a great job of marketing its brand of aluminum, but there are downfalls in choosing its framing products. The biggest differences in buying aluminum framing from Flexmation vs. 80/20 boils down to these points:
Inventory: Unlike most 80/20 distributors, FlexMation is a large stocking distributor for the Rexroth Bosch brand modular aluminum profile products. Our theory is "let us be your inventory" so you don't need to. FlexMation stocks a full line of Bosch products that is found in the MGE & MPS catalogs.
Design: Unlike most 80/20 distributors, FlexMation employs a focused crew of engineers who can help answer design questions, with your input FlexMation can create design models so you don't have to. Do you need a team of pros to develop a project for you?
Manufacturing: In-house services – Unlike most 80/20 distributors, FlexMation can machine the product as required, provide the non-Bosch products like polycarbonate panels or other custom (non-Bosch) components and assemble to your requirements. Maybe you need a team of pros to build an assembled project for you?
Find Your Aluminum Framing Solutions with FlexMation
If you're ready to learn more about our T-slot aluminum framing, we're excited to help. As experts, we're proud to say that we're fluent in modular framing systems. As a trusted aluminum framing provider, our customers have access to an extensive inventory of aluminum extrusions and hardware. Our team can cut your extrusions to length or, if you prefer, design and build a full assembly on your behalf.
Curious about aluminum extrusions or framing systems from Bosch? Then say no more – we've got a Bosch Rexroth Aluminum Structural Framing Catalog with your name on it, available right now, free of charge. This catalog is the perfect resource if you're looking for lean visual tools, workstation accessories, aluminum extrusions, and much more.
Let's talk today about the project you envision. By tomorrow, we'll be one step closer to bringing your vision to life.