The Numerous Benefits of Quality Machine Guarding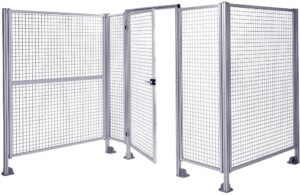 In the world of industrial manufacturing, one simple truth holds true: safety is crucial. That's because moving machine parts can potentially cause severe workplace injuries like burns, crushed fingers, broken hands, blindness, and even amputations. In 2020, 196,140 injuries due to contact with objects and equipment were so severe that workers had to take time off work. But that's a best-case scenario. In 2020, there were 4,764 fatal work injuries, according to the U.S. Bureau of Labor statistics. Though those numbers were down from 2019, it begs the question: What are warehouses and industrial facilities doing to protect their workers?
One of the most common solutions that manufacturing companies use to boost safety comes in the form of machine guards.
What are Machine Guards?
Machine guards are physical barriers, enclosures, or guards, typically constructed of metal, that are used to protect workers. These guards are usually in place year-round to protect against dangerous machine parts and processes that occur during normal operation. Some of the most common hazards that machine guards protect against include:
     

Sparks

     

Flying Chips

     

Reciprocating Parts

     

Rotating Parts

     

Nip Points

     

More
What are the Benefits of Using Machine Guards?
The most apparent benefit that machine guards present is the improved safety that we outlined above. However, there are other benefits to having high-quality machine guarding in your warehouse or facility. Here are just a few to consider:
Employee Morale
Most workers and employees in industrial settings understand the inherent risks associated with their jobs. When you install machine guards in your facility, it signals to workers that their safety is your #1 priority. When workers know they're cared for, their morale increases, which can create a wave of positivity amongst staff. This overall sense of positivity or high morale will manifest in the quality of your products.
Compliance Needs
OSHA has several regulations and mandates associated with machine guarding. This helps ensure a minimum level of protection for workers. Keeping your facility compliant is of utmost importance, as fines and other issues can halt production and affect your bottom line.
Easier Clean-Up
Whether your facility specializes in cutting materials, welding, or other processes, your workspace probably gets dirty very fast. And while machine guards can help contain sawdust, paints, sparks, and other materials from harming workers, they can also help streamline clean-up. Machine guarding helps keep scraps and other materials contained within the enclosure, making it more convenient to clean. This, in turn, can help expedite clean-up and, over time, save on costs.
Machine Guard Implementation
Keeping your machines and employees protected with machine guarding is a no-brainer but doing so is easier said than done. Balancing worker protection without compromising your facility's productivity is a true challenge. Here at FlexMation, our team is highly-knowledgeable on the nuances of machine guard regulations. We've helped many manufacturers implement simple, yet cost-effective, machine guarding at their facilities. If you're scrambling to adhere to OSHA or another regulating body's regulations, we're here to help.
Often, that approach includes using EcoSafe™ guarding from Bosch Rexroth.
Introducing the the EcoSafe™ Machine Guard Line from Bosch Rexroth
The EcoSafe™ line from Bosch Rexroth has a wide range of machine and perimeter guarding options that are perfect for creating physical enclosures, guards, and barriers to protect workers. EcoSafe™ panels assemble and install easily from standard components. Partitions can be constructed of wire mesh screens, protective panes, or panels and then mounted directly into T-slot profiles.
Ecosafe's machine guards represent maximum levels of safety to protect your employees and help you meet all necessary standards and regulations. These modular protective fence pieces come equipped with pre-assembled side frames, facilitating quick construction or modification.
EcoSafe™ integrates seamlessly with aluminum framing, too, so your modular system is simple to reconfigure and add to as your machine and lines change with time.
Plus, installing EcoSafe™ is easy. Here's how:
     

Mark your perimeter with a chalk line.

     

Anchor the support posts to the floor.

     

Install the "hook and hang" brackets and hang each panel using two screws. This user-friendly design makes it easy to relocate or change your guarding with minimal time and labor.

     

Add hinged or sliding doors to make it even easier to access your machines for maintenance.

     

Boost safety. Limit downtime. Increase productivity.
About FlexMation
We aim to be trusted partners who advance your manufacturing performance. Simply put: We help you make things better, safer, faster, and smarter. We create beautiful custom workstations, machine guards, FIFO racks, carts, and other equipment to improve productivity and safety in manufacturing, industrial, and high-tech environments. Whatever your goal, we'll help you get there. Let's find your solution today!