Tugger Carts vs. Forklifts: Which is Best for Lean Manufacturing?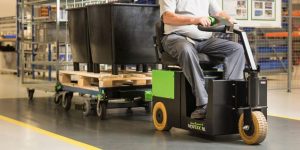 Though it can be hard to believe for some manufacturers, transitioning to a forklift-free environment is not a novel concept. Initiatives like lean manufacturing minimize the need for forklifts altogether. But that brings up an important question: How can you maintain productivity without relying on equipment like forklifts? For many warehouses and facilities, the answer to that question is tugger carts.
Though not feasible for every company, many manufacturers who relied on forklifts in the past are now staunch supporters of tuggers. These battery-operated walk-behind and electric push-pull assists from Movexx are proving to be more efficient, cost-effective, and safer than forklifts.
Let's dig in and take a look at exactly how tugger carts are quickly becoming the go-to choice for lean manufacturers.
What are Movexx Tugger Carts?
Tugger systems, also referred to as tug carts or material handling carts, are a reliable and efficient form of alternative material handling equipment utilized in warehouses and distribution centers. They are specifically designed to transport heavy loads such as pallets or totes within the facility floor. Tugger systems are composed of a cart that is pulled by either a manual or electric tug, making them the perfect choice for navigating narrow aisles and tight spaces.
Tugger Carts vs. Forklifts: What's the Difference?
Unlike forklifts, tugger systems can be operated by employees with less training. They are also more agile, making it easier to navigate through crowded warehouses. Additionally, tugger systems are generally safer and more comfortable to use, which helps to prevent workplace accidents and injuries. Tugger carts can be used for many different applications in a wide variety of sectors, including:
Industrial

 

Warehouse

Medical

Tech

Food

 

Distribution

 

Retail

 

Waste

 

Healthcare

  

More
What are the Benefits of Using a Tugger Cart for Lean Manufacturing?
Boosted Capacity
Unlike forklifts, which have a limited carrying capacity and require the operator to make multiple trips, tugger carts can be linked together to form a train and towed by the tugger, enabling complete deliveries in one go. While there is technically no limit to the number of carts that can be linked, the tugger's maximum capacity will depend on its specifications and the floor surface's flatness and roughness.
Agility
One popular way to use tugger carts is to form a "tugger train," which connects multiple carts to form a train behind the tugger. This setup can replace the need for multiple forklift runs. Also, because tugger carts have exceptional maneuverability, it's easier to navigate them through narrow spaces and aisleways.
Safety
Forklifts usually require an operator to remain standing or sitting while operating the equipment, but many tugger cart systems allow operators to walk beside the unit. This lowers the likelihood of operator burnout and helps reduce the risk of injury resulting from repetitive movements. Plus, since most tugger carts have a lower center of gravity and improved stability, tipping, and other mishaps are minimized.
Ease of Use
Even users with limited experience can operate Movexx tuggers with confidence. No special licenses are required. Some Movexx tugger models even have removable battery packs, which reduces the need for fuel.
Consistent Simplicity: T1000-Basic
This small but powerful electric tug can effortlessly pull carts and trolleys weighing up to 2300 lb. Its AGM battery is easy to charge using the built-in charging system. Additionally, the tiller head is ergonomically designed to promote a responsible working posture that does not strain your back and shoulders.
A Clean Solution in Lean Manufacturing: T2500-CleanRoom
This electric tug is specifically designed for pulling carts and trolleys in a clean room environment. The closed clean room wheels prevent the accumulation and release of dirt. Additionally, the electric tug is entirely made of stainless steel (UNOX) and is easily cleanable, making it a maintenance-friendly option.
A Wide Range of Uses from Construction to Medical: T1000-RZ
The T1000-RZ is a powerful electric tug that can push/pull up to 2200 lbs. It's designed to facilitate the movement of carts with four castors. Workers can place the tug with two legs below the cart and lift the cart slightly at the frame to create stability. From there, the tiller arm can be easily adjusted to accommodate users of different heights, making it a versatile tool for any workplace. In addition, the tug is equipped with a reverse switch that automatically breaks and moves forward a bit to create space in case it comes in contact with your body or an object, maximizing safety.
Movexx Tugger Carts for Your Lean Manufacturing Needs
Ready to improve your lean manufacturing initiatives with a tugger cart? Have questions about one or more of the tugger carts we have available? At FlexMation, we aim to be trusted partners and allies who can help every step of the way. Simply put, we help you do your job better, safer, faster, and smarter. Let's build something special today.