Why Use Height-Adjustable Workbenches in Your Lean Manufacturing Processes?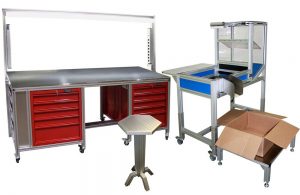 Did you know that involving manufacturing and material handling have a higher risk of job-related injuries? These injuries not only impact the workers involved but also harm the company's success. While most lean manufacturers take steps to boost productivity and safety, shop floors in warehouses and facilities might not always reach those goals. However, by prioritizing ergonomics and safety, your company can become more competitive. One way to do this is by implementing lean manufacturing tools like height-adjustable work benches.
These workbenches can support productivity, quality, and worker safety and are more than just a matter of convenience. In fact, they can play a significant role in your company's success. Let's take a closer look at why height-adjustable workbenches are great for your lean manufacturing needs.
Enhanced Lean Process Support
Having a properly designed workbench is crucial for creating a safe and efficient industrial work environment. By strategically placing tools and supplies within reach, you can reduce unnecessary movements and prevent wasted time. When a workbench is poorly adjusted, employees may need to constantly bend or reach components, connection points, and tools, which can lead to unnecessary strain and fatigue.
This can result in wasted time and reduced productivity. However, by using height-adjustable workbenches and positioning storage, tool support, and IT equipment in a thoughtful manner, you can save time and improve lean manufacturing efforts. Doing so can lead to a safer and more efficient work environment.
Worker Well-Being and Retention
When it comes to keeping employees safe and satisfied in your facility, it's important to make sure they're comfortable and not overworked. Overly demanding tasks can cause disinterest and even injuries. Both can be costly, so it's important to keep experienced workers around for as long as possible. One way to contribute to this effort is by using height-adjustable workbenches, which can improve employee well-being and lead to better retention rates.
Custom benches that are tailored to the needs of your workers can make your employees feel more valued. It's a good idea to ask your employees directly how you could improve their workbench setup to make them even happier. When employees feel appreciated, they tend to work better.
A purpose-built workbench with height-adjustable features can significantly increase employee satisfaction, which can ultimately lead to more company success. By investing in adjustable workbenches for your staff, you're showing that you care about their well-being and the quality of their work.
Optimized Performance
In the world of lean manufacturing, there are many types of workbenches from which to choose. Modular workbenches are a popular choice because they can be adjusted to fit different tasks. In fact, you can use 3D workbench configurators to help you plan and visualize your setup. However, sometimes standard workbenches aren't enough to meet specific needs. If you find that to be the case, contact FlexMation about a custom solution.
This could be something as simple as adjusting the size or angle of a shelf or something more complex like a large station with a conveyor, a tilting work surface, or a special type of configuration. No matter the size of your operation, a custom solution can help you be more productive, accurate, and keep your employees healthy – leading to a quicker return on your investment.
Industrial Workbenches & Workstations from FlexMation
At FlexMation, we've designed more than 6,000 custom industrial workstations over the years, and thousands of them are in by our clients: small industrial shops, world-class manufacturers, universities, research labs, and everything in between.
Some of the workstations and workbenches created by our engineers include:
Stand-alone workstations, workbenches, and worktables

Workcells: Linear, U-shaped, back-to-back

Limitless size options

Height-adjustable or fixed-height

Sleek, high-tech look (because aesthetics are important)

Easily reconfigurable, able to change with product lines and future needs

Ergonomic designs boost employee well-being and engagement

ESD-safe options

Endless customizations with accessories
Whether you've got a complete drawing or are just starting out, our team is ready to work on your workstation design. By getting to the core of your motivation, we're able to offer better suggestions along the way. The result? A solution that is uniquely yours that is suited to your product, your crew, and their tasks. The combinations are nearly infinite. Let's build.