How Does Error-Proofing Technology Boost Your Accuracy and Efficiency?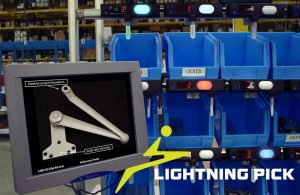 In the world of lean manufacturing, seeking ways to constantly improve is crucial. That's where error-proofing technology can ensure that your products are built more efficiently and accurately. Eliminating product defects through error-proofing can also result in numerous business benefits, such as improved production output and quality predictability, decreased scrap rates, less redundant and rework inspection, reduced variability, and ultimately, lower costs since the products will be manufactured correctly on the first attempt.
Some of the most common benefits of using error-proofing technology in the manufacturing workplace include:
Improve the quality of your products

Save money and reduce costs

Fewer customer complaints

Improved employee morale

 

Elevated productivity

 

More accountability for errors

Improved transparency
You're probably thinking to yourself, "Those sound like some great benefits. But how do I figure out which error-proofing products or systems are the best for my goals?" At FlexMation, we find the best approach to answering this question starts by examining your company's specific problems. What are some of the features you need to reduce the pain points you're experiencing? Once you have that answer, you can nail down your error-proofing system decision. At FlexMation, we have several error-proofing technologies to choose from.
The Build2Light™ pick-to-light system by Lightning Pick is a reliable solution for error-free parts picking, assembly, kitting, sequencing, and other material handling operations. As humans, we are prone to making mistakes, but with Build2Light, these errors are minimized using light displays that show the correct locations and quantities. This ensures that the right tools and parts are used at the right time. Additionally, the accompanying software coordinates the whole process with your bill of materials, making employee training and new product launches much more efficient.
Benefits of Build2Light™ systems include the following:
 

Workers spend less time analyzing and notating part numbers.

Fewer part number transpositions and reduced operator picking errors.

You can reverse this system into a Put-to-Light system. Contact FlexMation for more information.
DAVS (Digital Assembly and Verification Systems) are utilized for tasks such as incoming inspection, counting, sorting, and manual assembly stations. The software and system can display comprehensive work instructions, including images of the required tasks to be performed.
Benefits of DAVS include the following:
Incorrect locations, items, and work procedures are caught on camera and logged for traceability and quality validation. This process can greatly reduce errors.  

 

Less experienced workers or new hires can learn faster with fewer errors.

 

Your company's accuracy and speed of manufacturing is increased.
Custom Error-Proofing Solutions to Meet Your Lean Manufacturing Goals
At FlexMation, our goal is to be your trusted partner – allies that don't just supply parts but advance your lean manufacturing performance. At the end of the day, our goal is to help you do your job safer, smarter, and better all around. One of the most effective ways to do so is with error-proofing systems like those listed above.
By offering additional solutions such as custom industrial workstations, FIFO racks, carts, and other equipment, you can improve your company's productivity and safety, whether you do business in the industrial world or a high-tech environment. Whatever your goal may be, our engineers will help you get there with confidence and one-on-one attention. Ready to get started? Let's build.